The new F-3000 is packed with all you need.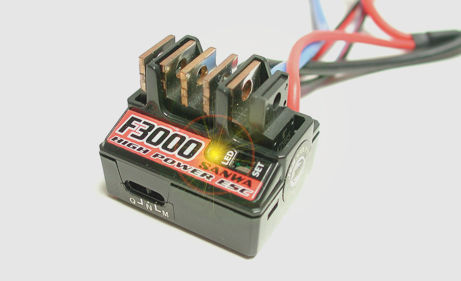 Braking Power, Easy Setup and the ability to change the way the motor reacts to your trigger finger. It's like having an adjustable Throttle EXPO without a high-end radio. This one is definitely an Advantage.
Q – Quick
N – Normal
M – Smooth
Power Supply

Maximum Current

Continuous

Loss Resistance

Dimension

Weight

Suggested Motor

Z-Connector System

7.2v – 8.4v

2000A

500A

0.7m Ohm

28.3mm X 33.3mm X 26.7mm

42 grams

10 Turn and above
High Frequency drive on FET.
High performance MOS-FET.
3 position Frequency Control (Power control) switch.
One button set up ease to set the, Neutral, High Point, and Brake.
Heat Protector is provided to protect from abnormal high heat on FET.
Overload protection.
When the battery voltage reaches 4.7V, it automatically reduces the motor r.p.m to let you know the battery is almost empty.